Nursery News
Puppy in a pocket

Timline Puppies
If you are interested in any of my puppies please contact me by e-mail.

I require references and will ask a million questions when you enquire about purchasing one of my puppies. Please do not be offended as I am only trying to make every effort possible to insure that my puppies go into good loving homes.

My puppies are raised in my home with my children ages 4, 6,7, and 16. They are heavily socialized and are a part of our family. I do not have a kennel nor are my dogs kept separated from my family.
Baby Pictures of current litters
(more pictures will be added as they are scanned)

Puppy Love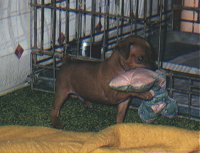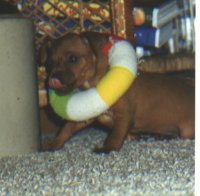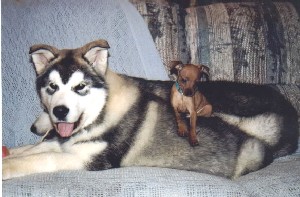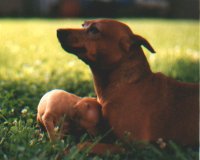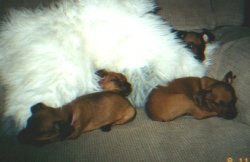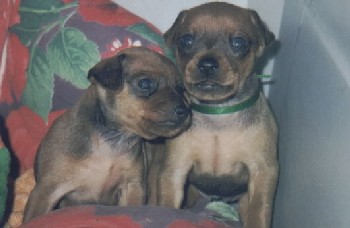 Current Litters

Ch. Timline's O' Custom Cruizer and Timline's Show Boat -born 6-2-00
3 boys two stag red and 1 bl/rust.
1 boy will reside in my home as a show, obedience, agility prospect, Look for him in the future as Timline Can't Drive 55.
The bl/rust boy will reside in New England with a top Obedience competitor.
The 3rd stag red boy is looking for a great home as a show prospect and/or pet.
All puppies have fantastic outgoing personality yet very sweet.

Ch. Shorewood's Rainstorm and Daran and Ch. Rocket's Up Witchy Woman born 7-1-00
2 boys and 1 girl all stag red.
the boys are looking for great pet homes only.
the girl will reside at present for evaluation as show prospect with co-owner of litter and good friend, Dana.
At 7 weeks these puppies temperament tested outstanding, being independent and fearless. The boys would make great obedience
and performance boys. Fun and outgoing best describes this litter. As a note this is Gracie's last litter and I am saddened to see how
she has added to the breed. Yet at 10 years old she has well earned her retirement.

Ch. Timline's Ruby Tuesday and Russell (BISS CH. Hackberry Syrus)
4 lovely Stag red puppies, born 8-10-00
Owner Barb Erb is a very proud owner.
These 3 girls and boy are breath taking even at just a few weeks old.
They are healthy and very active as we await their growing up.
With this quality, serious show prospective owners can contact myself or Barb here.

As to future puppies, there are no plans for the future. I have set my goals on finishing Championships, Obedience titles and
pursuing my work in Agility competition .

Home page